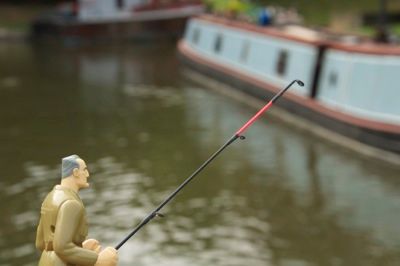 Britain's historic canals are a fine piece of work. Dug to keep the French out and generally keep the people in their place, grafting coal, immigrants and gunpowder around the country on barges, they are something of a British institution.
Not that today's canals have quite the same nostalgia. These days they are mostly populated by boatloads of pensioners, stag parties and regrettable sloan types who quaff tins of Stella and accidentally smash the paint off hired narrowboats. It brings a quiver of animal fury to my usually stiff upper lip, every time I visit my half brother Ken, on the Kennet and Avon Canal, aboard his shabby boat, the Half Nelson.
In spite of the threat of the British public on a Saturday, I nevertheless decided to go fishing. I began by assembling a short but sturdy pole, and a delicate rig (40lb line, size 10/0 hook). Having no time to waste on small fish, I baited the hook with enough bread to give a man constipation for a week, like this: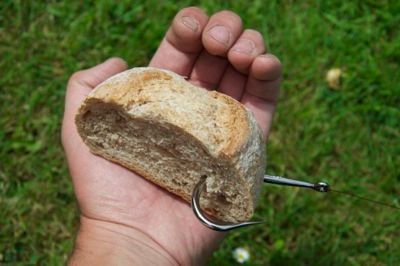 Now, I'm well aware you might have seen fools such as Bob Nudd fishing pathetically tiny baits for miniscule roach on canals, but if you want quality you have to think big. There are some huge fish on almost every British canal, if you are only brave enough to think like a military general.
For some time though, those pissed students driving boats and aimless, elderly dog walkers played havoc with my best laid plans. A group of Oxbridge tossers smashed into the far bank feature I had been targeting, before a Dalmatian ate my sandwiches.
I was just about to reach for my service revolver when the float dipped and there was a mighty surge. Something was thrashing violently in the canal's central track. I couldn't believe my eyes when I pulled out this titanic rudd of over forty pounds:
But the better surprise was yet to come. Among the detritus on the canal, I had noticed various dead things. Not just the detritus of nearby Bath, but a drowned rabbit. A perfect bait for any giant scavengers, or so I thought.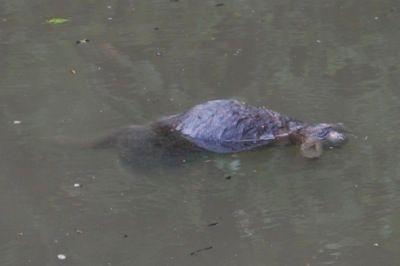 The afternoon was painfully slow, as more sloans, Essex stag parties and assorted human detritus floated down the canal. Even with my legendary stiff upper lip, I was almost driven to one of my outbursts. And then, just as it couldn't get more annoying, my war wound started to play up. A bottle of port took the edge of this, but I still found myself biteless, and wondering if the dead bunny would ever produce a run.
At around 4pm the float suddenly sloped away. I struck, and there was such a tidal wave of force, every boat within half a mile rocked. One of the boats slowed down for a look.
"Oi mate, what have you hooked? Is it a carp? I fish for them, and nothing else ever because basically I'm a bit of a twat."
"I am a military general, not your mate," I replied. "Please desist and go away. I have sunk far bigger vessels than yours, you young scullion."
The fight was dogged rather than spectacular, and I soon drew an enormous Tommy Ruffe into the net. A superb fish at thirty-seven pounds, three ounces, eight drams and six point 5 mili-drams, I was naturally delighted, and broke into my first wry smile for five years. Another British record- and further proof that I am an amazing big fish angler, better than all of you in fact: