Welcome, soldiers. I am the General and this is my blog. You might have read some other fishing blogs, but this one is going to be different. This one is going to be HUGE. It's going to be louder than war and even more fun, if similarly unethical. So listen up, and listen good.
I'm here to tell you that catching big fish is not the most important thing in angling. Catching absolutely shitting enormous, record-breaking fish is the most important thing in angling. Nothing else matters and if you don't catch huge fish on a regular basis, you are a failure. Because fishing is not meant to be fun. This is man vs nature. Land dwellers vs water-based super vermin. This is not your mates Steve, Kev and Dave farting about on a Sunday afternoon, THIS IS WAR.
In this blog I will be blowing your mind. I'm talking about bigger fish than you have ever caught in your sorry life. Fish that you cannot dream of, let alone catch. You might want to run and hide like a girl when you see my monsters. Hell, even the baits I use are enormous compared with yours, like these worms I found today:
This is my first tip in fact: you want big fish? Use big baits. Stop using those pathetically small boilies and worms and bait up like a man. My worms come from a compost heap near Hinkley Point, where they have absorbed huge amounts of atomic radiation and grown to the size of snakes. You can't buy this shit from your local tackle shop soldier, you have to dig it. Go on, get your hands dirty.
I simply knew these worms would be just right for a world record roach. Forget those puny two and three pounders that show-offs like Hugh Fearnley-Bowler and Darren Stagg catch in the weekly chip papers, I'm talking HUGE fish. Roach that COULD CHEW YOUR ARMS OFF. Roach that are so enormous I HAVE TO USE CAPITAL LETTERS TO EVEN BEGIN TO DESCRIBE THEM.
Expectations were high as I made my way to my secret venue. I will never tell you where this is, even if you torture me, so please don't ask. It is classified information, period. In fact, if you were even thinking about asking me where it is, stop reading this blog right now and never come back ever again.
The session began disappointingly. I had tackled up a single five pound test curve rod (three rod set ups are for girls, cheats and communists) with a big pit reel and 20lb line and cast a half pound worm two hundred yards out into the lake. If you can't cast this far, this is precisely why you never catch world record fish.
Anyway, I was initially plagued by nuisance fish. The first couple of roach were mere three pounders. I threw one in a hedge, before beating the other to death with my bare hands for use as pike bait. But on the very next cast, I had a savage bite. The fish went AWOL and it was some thirty-seven minutes before I finally got it under control and sunk the net: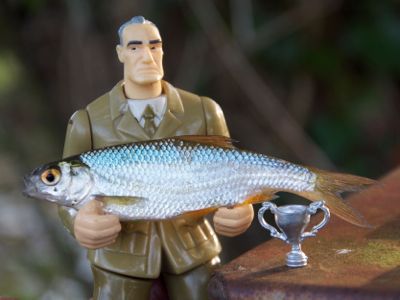 At 37lbs 9oz, it wasn't a bad fish. But I'm sure there are bigger samples out there. If you keep following this blog and
my Facebook page
you might even learn how to catch your own record breaker.
Sadly, not all anglers understand my military obsession with absolute monsters. They are either jealous or unhinged, but if you would like to waste your time with tiny fish there is a special award this year for the "Best Micro Catch" by the organisers of
flyforcoarse.com
-You could win
a tiny trophy and other prizes
, if you really do suffer from such a lack of aspiration.
In the meantime, get fishing soldiers! You'll never catch anything as big as me, but you can try.